I feel very caffinated. I am not. But my heart is pounding from a conversation with Chimno about our exams/papers/labs due next week, and that kind of physical reaction (unpleasant) (worrying) (distracting) doesn't usually happen unless I've had more than the unusual amount of coffee (but 0 <= 0) or less than the usual amount of sleep (but x >= x-bar).
Okay, new post, since the above is obsolete.
You may or may not know that I don't celebrate Halloween. It's one of those admissions I like getting over with as quickly as possible so we can get to talking about what
you
have done / plan to do / did.
HOWEVER. This year, there was a holiday related event:

cyloncurry
and I helped Helen with her costume via non-toxic markers.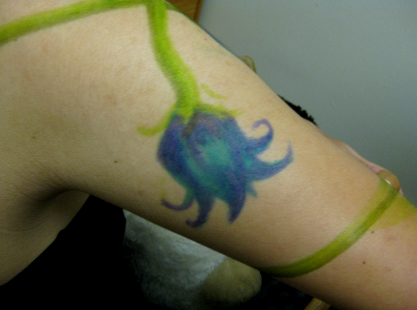 Bethany watched over us and commentaried and disapproved.
The overall design and pattern is Helen's, as are the supplies, as is, ah, her body. Ela and I worked together on the flowers and the stems. The leaves were pretty much all Ela's. Don't they look all awesome and 3D? I did the buds and bud-shaped-things.
( Derp )